CrossFit Inventive – CrossFit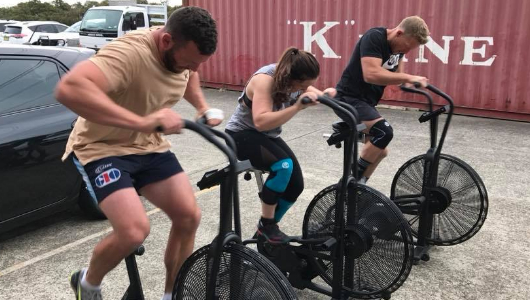 "ASSAULT IN PROGRESS"
Warm-up
Couch Stretch 60 sec each side

30 sec twisted cross each side

30 sec Lower back/Hipflexor each side

60 sec frog stretch

———-

Activation

2 Sets:

5 Light strict press each side

5 Light Goblet squats each side

5 HRPU

10 V-sits
Metcon (Time)
For Time:

30-20-10

Double Dumbbell Push Press

Air Squats

15-10-5

HSPU

Weighted Squats
Subs:

barbell Push Press then heavier barbell push press in part 2.

Single DB Push press in lots of 5 each side. Dumbbell Strict in part 2.
Weights squats can be with a sandbag, holding a weight plate or your dumbbell(s)
Metcon (Time)
Midline Finisher:

100 Elbow Knee Cycles

30 Sec plank hold

75 V-sits

30 sec plank

50 Crunches

30 sec plank

25 Hollow rocks

30 sec plank
*Aim to complete with minimal rest.

* All plank holds need to be a true 30 seconds each time.