CrossFit Inventive – CrossFit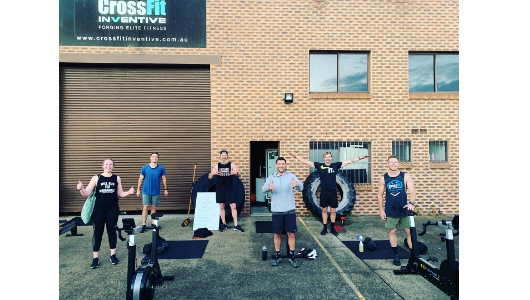 "IF YOU'RE SERIOUS ABOUT CHANGE, YOU HAVE TO GO THROUGH UNCOMFORTABLE SITUATIONS. STOP TRYING TO DODGE THE PROCESS. IT'S THE ONLY WAY THROUGH"
Warm-up
20 ScorpIons F/B
30 Sec Lower Back/Hipflexor
30 Sec Twisted Cross e/s
30 Sec Spiderman Lunge Hold e/s
30 Sec Calf stretch e/s
30 Calf Pumps
—————
Partner Activation:
3 Rounds each:
5 Barbell Good Mornings (Empty Bar)
5 Box Jumps/Box step ups
3 Inchworm 1 Push-up
—————-
WOD SET UP
3.2.1….GO
Metcon (Time)
"Noah Calderon"
For Time (with a Partner)
Buy-In: 1,097 meter Row
Then, 20 Rounds of:
3 Deadlifts 102.5/70kg
8 Kettlebell Swings 24/16kg
12 Box Jumps (24/20 in)
20 Burpees
(35 min Cap)
With a running clock, as fast as possible perform the prescribed work. Athletes must complete the 1,097 meter Row before moving on to 20 rounds of 3 Deadlifts, 8 Kettlebell Swings, 12 Box Jumps, and 20 Burpees. One partner works at a time (you-go-I-go style). Partners may switch as needed.
Score is the time on the clock when the last round of the Burpees is completed.